Hello, Boston Marathon Expo.
I drove to the expo. On the downside, it was probably a mistake because the traffic was horrendous due to street closures. On the plus side, I drove a few miles of the course and got to see mile/kilometer markers painted on the road. That was good. I liked this sign on a Massachusetts state police vehicle. The tape says Boston Marathon.
The expo was crowded. Really crowded. Make sure you allot plenty of time and go with room in your stomach. There were samples everywhere. Frozen kefir, yogurt, drinks, bars, snacks, you name it. Brooks had spaghetti. By the time I got there, I was tired and not hungry at all.
I had 3 things I wanted to buy: a Boston Marathon jacket, Yurbuds, and Nuun. Check, check, and check. The only thing I bought that wasn't on my list was a pint glass. Every running vendor you could think of was there.
Here's all the stuff in the swag bag and the stuff I bought, plus the Runner Passport on a lanyard (new this year), official program, poster, my bib, and a picture from Brooks. The poster has every runner's name on it. Nice.
I bought some cherry limeade and watermelon Nuun, and so I got 2 Boston Marathon Nuun water bottles. Score! I needed a new water bottle.
This Sam Adams bottle opener was in the swag bag. The 26.2 sticker was nice too.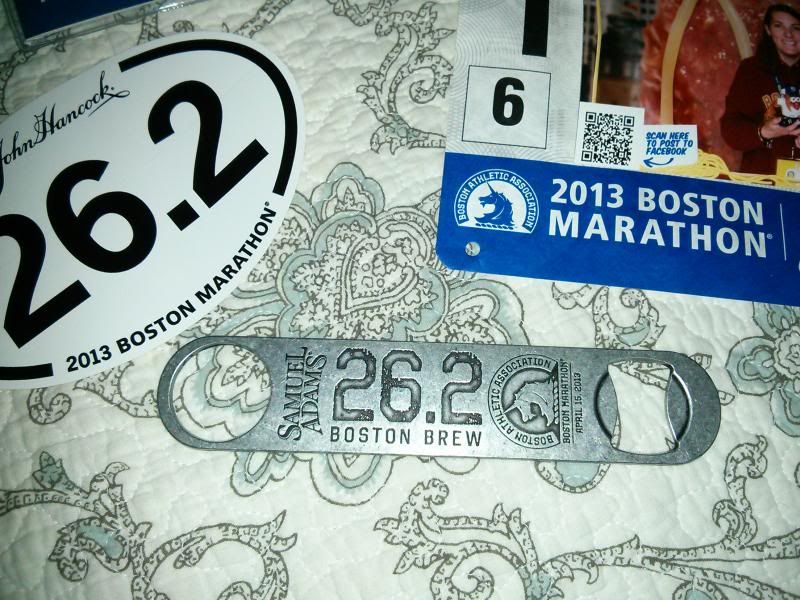 One more day til Marathon Monday!!