I ran the Chicago Marathon on October 9, 2011. This race has a history of being hot. It wasn't as bad as some years, but it was hot enough to slow almost everyone down. While I didn't get the BQ I had trained to run, I set a new marathon PR and had fun doing it.
The race expo was gigantic.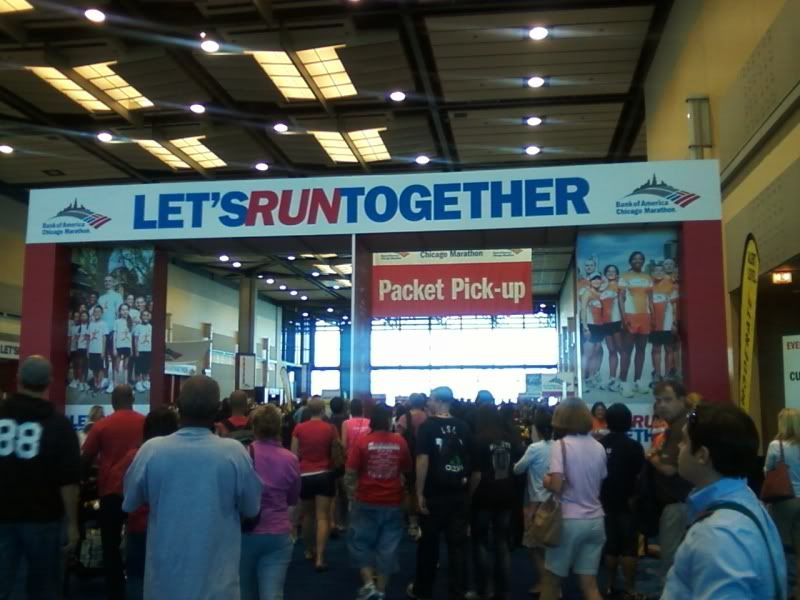 I got to meet Hal Higdon! And he signed my marathon book.
Ready to start on Sunday morning
Here's the mile-by-mile breakdown:
Mile 1-3 - The Loop in downtown Chicago. I really liked the architecture in Chicago. The beginning was crowded. There was only one part in the first mile or two on a narrow(er) street where I had to slow down. That's probably a good thing. I knew I had to be careful about going out too fast. The crowding made that difficult to do. When I hit the 5K mark, I thought I was running too slow but then realized that I was just about where I wanted to be.
Mile 4-7 - LaSalle Drive heading north, then Lincoln Park. I like parks.
Mile 8-11 - This part was very pretty. Brownstone buildings, lots of spectators. If you look out for the Willis (formerly Sears) Tower, you can use it as a reference point. Head north, then back, head west, then back, head south, then back. If you know to look for the Willis Tower just before mile 8, you will know where you are. I didn't see the Willis Tower, but I did catch a glimpse of the John Hancock Building, the other tall black building with antennas. I hit my planned pace on the nose for several miles. Oddly enough, I walked along mile 11 later in the day and did not recognize it at all.
Mile 12 - I honestly couldn't tell you. Somewhere in downtown Chicago. At least it was shady. I got confused about where I was. I thought I was at mile 12 but was still in mile 11. I think the course goes very close to the Willis Tower and yet I completely missed it. My husband was spectating on a bridge. He did not see me. I did not see him. A note to spectators. Bright signs and distinctive clothing are not enough. We should have gone with a mylar helium balloon.
I am not in this picture, but this is what the marathon looked like around mile 12.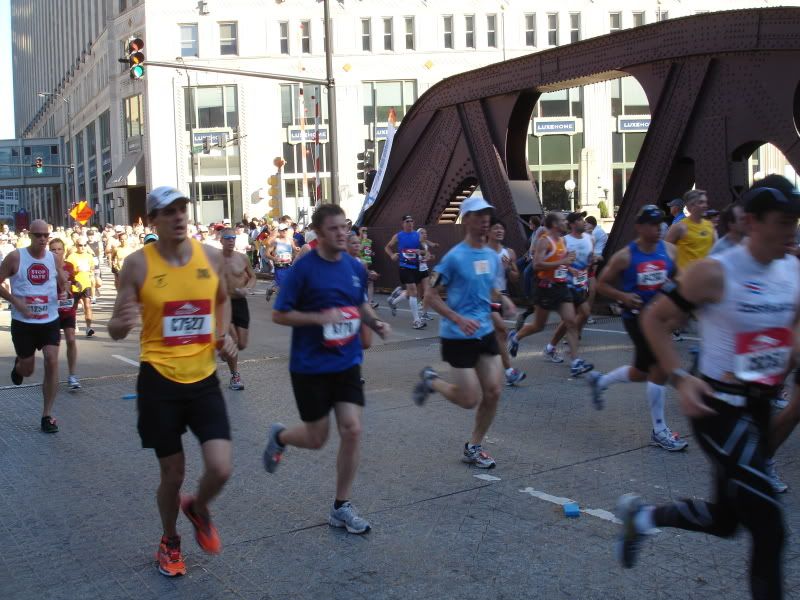 Mile 13 – Halfway done in 1:46:15. I was on pace to qualify for Boston and only about 30 seconds off my half marathon PR. I decided halfway was a good time to take my tank top off, take a walk break, and whip out my iPod. I was also dehydrated but mostly unaware of it at that point.
Mile 14-17 – Eh. I kinda don't remember much about this part. Headed west out from downtown Chicago. The scenery and crowd support were OK but not as good as the first half. The charity cheer zone around mile 14 was fun. There was less shade (although I was expecting no shade and there was some shade). The heat was catching up with me. Started slowing down a bit. I felt kinda nauseous around mile 15. Ate some pretzels?
Mile 18-19 – I pulled out my race cheat sheet, a little piece of paper with paces and times. While I still had time to make a move and was close to BQ pace, I knew I needed to speed up to make it. That was not going to happen. So I slowed down again. Took more walk breaks. Stepped to the side to walk and drink water and Gatorade. Ate more pretzels. I figured I could still get a PR. Just enjoy the race and get my money's worth by being out on the course longer.
Mile 20 – The nauseous feeling from mile 15 or so had gone away. I picked up the pace a bit here. I was feeling better. My legs were still feeling OK, too. Well, that was a victory. I don't remember my exact 20 mile time, but it was my fastest 20 miles in a marathon yet. Another victory.
Mile 21 – Chinatown. Lots of crowds. The wheels started falling off around this point. But this time it wasn't because my legs hurt. It was the heat. At a certain point, there isn't much you can do to beat the heat. So my plan was to hold on.
Mile 22 – Eh. I kinda don't remember much about this part either. Except for a bunch of people giving out little cups of beer. I was really tempted to take one (because a marathoner I met several months ago described beer in a marathon as "sweet nectar of the gods"). But I resisted. Kinda knew I was dehydrated. Beer would only make that worse.
Mile 23 – The heat was really starting to get to me. Full sun by a highway. The temperature was rising. Slowest 5K split of the entire marathon. Saw a runner go down, probably because of the heat. I tripped on a runner at a water stop (didn't fall but later realized that I got a nasty blister on a toe that had been giving me trouble since May). The course finally started turning north towards the finish line. 5K to go. Rebel Yell by Billy Idol came on my iPod. More more more.
Mile 24-25 – Straight north up Michigan Ave. I was expecting more full sun and was pleasantly surprised that there was a little bit of shade. Two miles to go, then 1 mile to go. The crowds were getting loud again. The Willis Tower was getting bigger and bigger.
Mile 26 – There is a lot of hype about the bridge/hill at the very end of marathon, right before you turn left to see the finish line. Maybe I am used to hills, but I didn't think it was that bad. Or maybe it was because I knew it was there. Or maybe it was all the spectators.
Mile 26.2 – Slight downhill to the finish line. There were a lot of spectators in bleachers, but I honestly do not remember hearing them. I was a marathoner for the third time. 3:53 flat on my Garmin, but I knew I had a few seconds of wiggle room. Official finish time was 3:52:56. New marathon PR by a few minutes. All things considered, I'll call that a win.
I felt fine at the finish but didn't feel fine about 10 minutes afterwards. My stomach decided it did not want what I was trying to put in it. Thankfully (I guess?), this very thing has happened to me before. I knew this was classic dehydration for me. Sat down, let my stomach do its thing, and then started to feel better. I got up, made my way out of the runners only area, found my husband (nightmare ... he had to stand next to someone with a helium balloon), walked to the post-race party area, and started getting food and water back in my system. I knew I was fine once I could eat and drink again.
Back to all smiles at Cloud Gate aka The Bean
Would I run Chicago again? Yes. The course is crowded, flat, well-supported, and lined with spectators. There are some big caveats, though. More on that later.