I should just rename this blog the Costco love blog. What isn't good about Costco?
I made my every 3 or 4 weeks trip to Costco yesterday. Costco still had plenty of the Lululemon Groove-like yoga pants AND they had coordinating jackets (in black, light purple, bright pink, or teal) similar to Lululemon's Define jacket.
The fit of the jacket was tight. If I had larger boobs, I don't think it would have fit well. The teal jacket jumped in my cart and came home with me because:
1. The cuffs are not tight. I often take off my outermost layer once I get going and have trouble getting tight cuffs over my Garmin. Not so with this jacket.
2. It has thumbholes AND an extra flap of fabric in the cuff that folds over into a mitten. Built-in mittens! My not-so-cold-any-longer hands appreciate this.
3. Two zippered pockets on the front.
4. A hole in one of the pockets to run headphones inside the jacket, and an elastic loop near the collar to keep the headphones in place. Not that I really need this feature. It doesn't hurt, though.
5. It matches the greenish tank top I plan on wearing for the Shamrock Marathon.
6. $24.99 pricetag. The Lululemon equivalent goes for about $100. The difference is my annual Costco membership fee and then some.
The jacket, and the thumbholes and cuffs.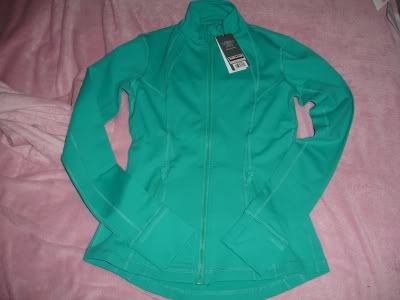 I took the jacket out for a spin with a long-sleeve tech layer as a base this morning. Temps were in the mid-20s. I unzipped the jacket and tucked back the cuff mittens once I was warm enough. I gotta say, I don't often wear jackets, but I might be a fan now. I liked being able to unzip it to let my midsection stay cooler while I simultaneously had an extra layer on my arms to keep them warm.
Costco for the win. Again. Who's surprised at that one? Now if only Costco brings back those racerback tank tops in the summertime ...