It's been a while since I have sung the praises of Costco workout gear. That's because it disappeared for a while. Trust me. I looked every time I went.
The reversible yoga pants are back. I still love my black and gray pairs. I may or may not have worn the black ones to work occasionally (and got compliments!). They are every bit as good as the Lululemon versions at a fraction of the cost. $19.99 vs. $98? Right. One pair of Costco pants more than makes my annual membership fee to Costco worth it.
The jackets are back too, apparently both online and in the warehouse. I still like the one I got
last year
, but I actually think this year's jacket is better. Here's why:
1. It has little reflective strips on the cuffs and on the back. Still has the thumbholes and cuff mittens.
2. It has a zippered pocket on one of the sleeves, in addition to two other zippered pockets.
3. It is longer and not as tight as last year's jacket. Covers my bum and keeps it warm ;-)
4. It has a double zipper. I am not sure what the technical term is, but there are 2 zipper pulls on the main zipper. Which is good if you want the jacket partially zippered from somewhere other than the bottom of the jacket.
5. Still $24.99. The Lululemon equivalent is about $100.
I got the reddish pink jacket because there was a blueish teal one too close to last year's jacket, I didn't need another black jacket, and I liked the reddish pink more than the purplish one. If I am going to wear this in the winter, I am going to wear it in the dark at least some of the time. Then I'd rather have a brightly colored jacket.
I took this jacket out for a run on the coldest day we have had this winter, and it is every bit as good as its older sibling.
Some pics:
Front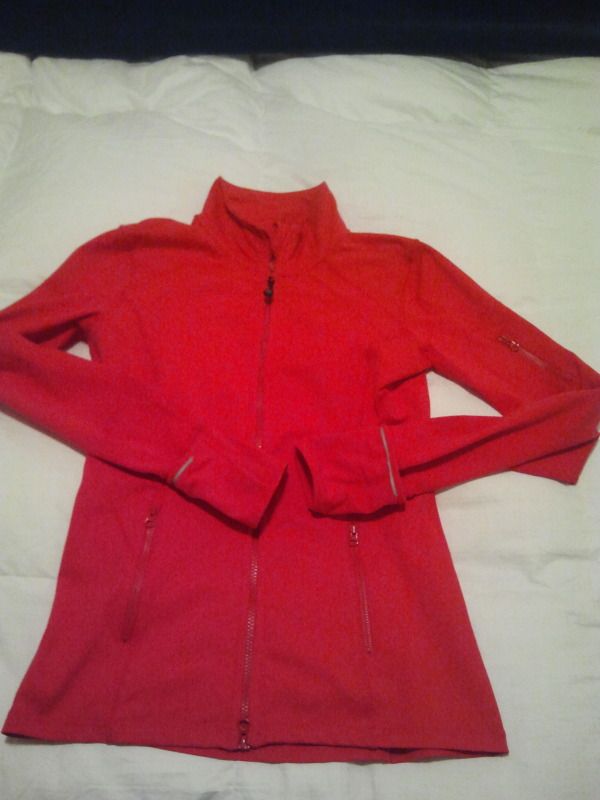 Back
The cuffs with reflective strips, thumbholes, and cuff mittens. The mitten folds over as far as the reflective strip.