A week ago, I was running the
Gansett Marathon
. Gansett is a small qualifiers only marathon in southern Rhode Island. Highly recommend it if you qualify!
Good morning, Narragansett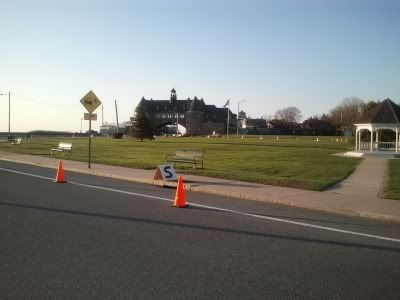 I had a 45 minute drive down to Narragansett. I left a little after 6am so that I would be comfortably chilling inside at the host hotel about an hour before gun time. Everyone is friendly. I chatted with another runner (who happened to go to one of the same schools as me), went outside for a warmup, dropped off my phone at my car, stretched, went back inside briefly, and then headed to the start line with about 5 minutes to go.
I immediately ran into
Shelby
and
Celia
and we chatted before the gun went off. Or not. There was so little fanfare that I almost didn't realize the race was about to start. With about 10 seconds to go, I realized I hadn't turned my Garmin on. Now, the runner I was a year ago would have freaked out by a technological failure. Past me used technology as a crutch. The runner I am today realized the Garmin is a tool. It was going to act differently, but that didn't make it any less useful. It actually turned out to be an advantage.
Mile 1-4 Ocean Road. I lost the first 1/4 mile because my Garmin hadn't picked up a satellite signal. I started the timer right when the gun went off. Fine. I'll go by time, not distance. One of the nice things about Gansett is that there are mile and half mile markers. Being 1/4 mile off meant that I essentially had quarter mile markers too. Started off by running under The Towers for the first time and down along the ocean. I ran with Keith Straw for about a half mile. There were exactly 2 people in costumes, and Keith Straw is one of them. He runs in a pink shirt, pink shoes, and pink tutu and carries a wand. Slightly uphill in the beginning. Big houses. Ocean views in spots. You can see the Point Judith Lighthouse if you know to look for it. My legs felt tight at first but loosened up after a few miles.
Mile 5-6 Point Judith. Lollipop to the lighthouse. This was one of the few sections of the course that I didn't know too much about. Sorta. I had ran to the lighthouse before but not from this direction. It was quiet and pretty.
Mile 7-8 Along a road near a beach to Galilee. Still pretty quiet. I saw a spectator I thought looked familiar. It was Skinny Runner's mom.
Mile 9-10 Great Island. A small bridge, fishing boats, some small hills, and really bad road surfaces. Some jackal stole the mile 10 sign, so I never saw it. I kinda needed the mile 10 marker to gauge where I was in relation to where I wanted to it. It was right around mile 10 that
Skinny Runner
caught up to me. I am pretty sure I heard her Garmin go off where the mile 10 sign should have been. We stayed close together til about the halfway point where she left me in the dust. Passed a friend twice and swapped out empty water bottles for full ones. Skipped the aid station at mile 9/10 (passed it twice) because it had orange Gatorade. Can't do orange anything during a race.
Mile 11 - Galilee Escape Road. The only "hill" of the whole race. No breeze. Full sun. It was the only time that I worried about getting too hot. Talked to a guy in a hamburger costume. I asked him if he was sponsored by
Crazy Burger
, a Narragansett institution. He said no, but he did get a lot of free burgers.
Mile 12-14 Point Judith Road. I knew this part was going to be difficult. Slightly uphill again. We were limited to the shoulder of a 4-lane road. Ate a few pretzels. Pulled out the iPod at mile 13 (or pretty much mile 13 because a jackal stole that sign too). Hit the halfway point at 1:39:xx. WHO RUNS THEIR FIRST SUB-1:40 HALF MARATHON IN A MARATHON?? I knew I had gone out too fast and I knew I needed to slow down. Several miles in the mid-7:00s (which I didn't know until I looked at my data after the race)? Way too fast for me. I had passed the hamburger, so at least that worked in my favor.
Mile 15 - Isolated stretch in the woods. Had some weird GI issues that thankfully went away quickly. Maybe it was the wall? I don't really know. At least it was quieter than Point Judith Road.
Mile 16 - Narragansett Town. Slightly downhill. Passed Crazy Burger and
Markos Kabobs
. Ran past the finish line. The race DJ announces each runner by name and qualifying race. Swapped out a water bottle when I saw my friends again. Raised my arm up as I ran under The Towers again.
Mile 17-20 - Second loop. Back on Ocean Road. I was pretty much running alone by this point, although I drafted behind a couple of runners for a little bit. At mile 18, I dropped one of my water bottles. It was a sign that I needed to take my first walk break. And then the wheels started to fall off. I finished all of my pretzels. I was getting dehydrated. I was running out of water and that was messing with my head. The aid stations were about 2 miles apart. That's farther apart than I am used to. There was one aid station where I literally came to a standstill to get more water. I started bargaining with myself by using my iPod. Just run through the end of this song and you can take a walk break. A song called "Can't Stop"? Well, can't stop. Other than dehydration and a weird feeling in my stomach, I was feeling OK. Nothing hurt. I wasn't too hot. Hit mile 20 at 2:36:xx or something like that.
Mile 21-24 - Point Judith Road again. Ugh, not again. So boring and gently uphill. I started counting down the miles. 5 to go. 4 to go. 5K to go. Just hold on and keep moving forward.
Mile 25 - Isolated stretch in the woods. One mile to go. I played more games with my music. Just keep running until the end of this song. Mile 25 was the first time I knew I wasn't going to make sub-3:30. Even sub-3:31 was going to be tough. "How badly do you want it?" popped into my head, and I said out loud, "I want it." Just keep running.
Mile 26 - Narragansett Town again. Just make it to Crazy Burger. Just make it to Markos.
Mile 26.2 - Rounded the short loop around the finish line. Heard the race DJ announcing me again. Saw that I was going to be damn close to 3:31 running up to the finish. Crossed the line at 3:31:02, 8:03 pace. 25 second PR after setting a huge PR 4 weeks earlier.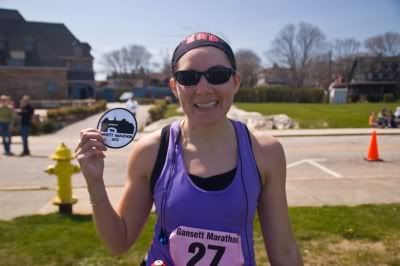 Going into Gansett, I really had no idea what was going to happen. I wasn't sure how to train for back-to-back marathons. I knew I had to be very careful to not push myself too hard, burn out, or get injured. I had several time goals because I just didn't know which one was realistic. To run a huge marathon PR and turn around and do it again 4 weeks later is a pretty amazing thing.
And now I add a Gansett Marathon finishers patch to my collection of race bling. Contrary to this picture, it was not easy ;-)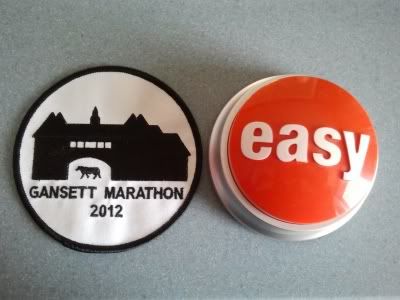 Here's the rest of the Gansett swag. Long-sleeve T-shirt with the Point Judith Lighthouse on the front and Gansett logo with The Towers on the back, button, and finishers patch.