My training plan for the week was cross-train, run 5, 5, and 5 miles, rest, 8 mile pace run, and 13 mile long run. Stepback week # ???? Oh, 4. I actually had to check that. I get to this point in every training cycle and say, "13 miles? That is not a long run." This time, I am not surprised.
I keep thinking about the feeling I had at mile 20 of the Mardi Gras Marathon. So amazing that I got chills and almost burst into tears. I hit 20 miles at just under 2 hours 56 minutes on the clock (well, my clock). I knew 20 miles in 3 hours flat was a 9:00 pace. I knew I was comfortably under my goal pace of 9:00-9:10. I knew I was going to finish in under 4 hours. I knew I was going to meet my perfect day goal. And I did. I think it was a better feeling at mile 20 than crossing the finish line. That feeling is what I want crossing the finish line at Chicago.
Sunday – yoga class, plus calf raises. I was going to walk to the gym, but it looked like it was going to storm. Well, it didn't storm. Oh well. My legs felt fine, so maybe I did not need the walk.
Monday – 5.2 mile run, plus abs, lower back exercises, and lunges. I thought I was flying along in the first mile and then looked at Rhody G. It was my slowest mile running by myself in a long time. Oops. It could have been starting out dehydrated or the collective marathon I ran on Friday and Saturday, even though I still didn't feel sore. I brought my pace down into my usual range by the end, so all was good. The kicker of the day is that it was humid in the morning but turned sunny, dry, and pleasant later in the day. That's living in New England for you.
Tuesday – 5.5 mile run. It felt so much better than Monday because it was cool and dry. Perfect running weather. A taste of fall. Picked up the pace and flew along (for real this time) to Brown University and back.
Wednesday – 5.2 mile run, plus upper body exercises and squats, plus 3/4 mile run-walk home from the gym. Disliked that I didn't really need to bring my sunglasses because the sun wasn't very high, even when I came home from the gym. Did some planks in the evening.
Thursday – Rest day. Extra sleeeeeeeep.
Friday – 13.1 mile run. Swapped my long run with the 8 mile pace run so that I could run along the Rock N Roll Providence route with a running buddy. It went well until the last .2 mile where I got a side stitch so bad that I was almost doubled over. I can't remember the last time I got a side stitch like that. I'm pretty sure it was my breathing. With so little distance to go, I just sucked it up and dealt with it. My running buddy redeemed herself after falling short of her goal at Rock N Roll Providence. It was fun to run through downtown Providence while other people were on their way to work. Finishing in sight of the Rhode Island State House? Always nice.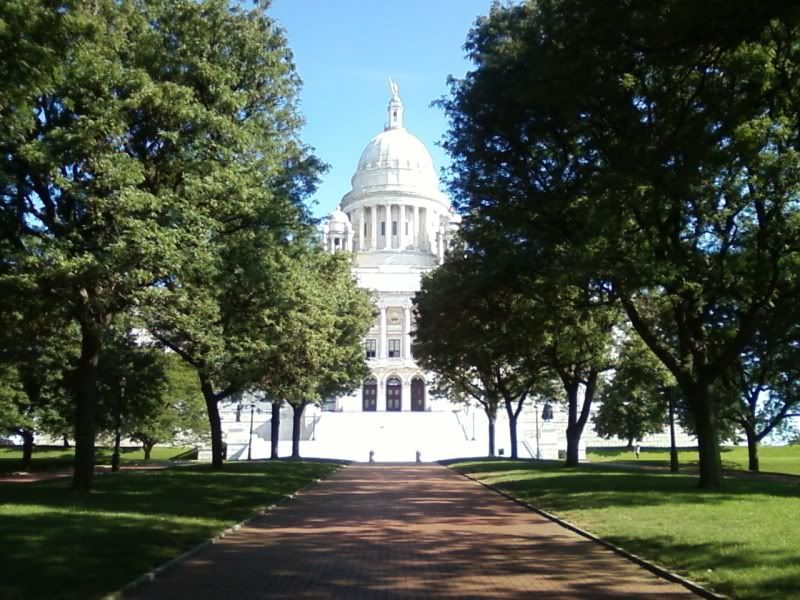 Saturday – 8.2 mile pace run. Sucky, sucky, and more sucky. One of the worst runs I've had in a long time. Took 3 walk breaks (one for another cramp, this time below my ribs, and two because I just wasn't feeling it). Very humid. Not counting the walk breaks, I was only a few seconds off from my marathon goal pace. My splits were all over the place. I went too fast in the first 1.5 miles but felt OK. And the cramp struck and the wheels fell off. So I kinda decided that this might not be a pace run. Sucky runs happen. I'm not going to worry about it. I was extremely pleased to get a watermelon sample at the farmers market when I finished my run. It was so tasty that I went back to buy a watermelon.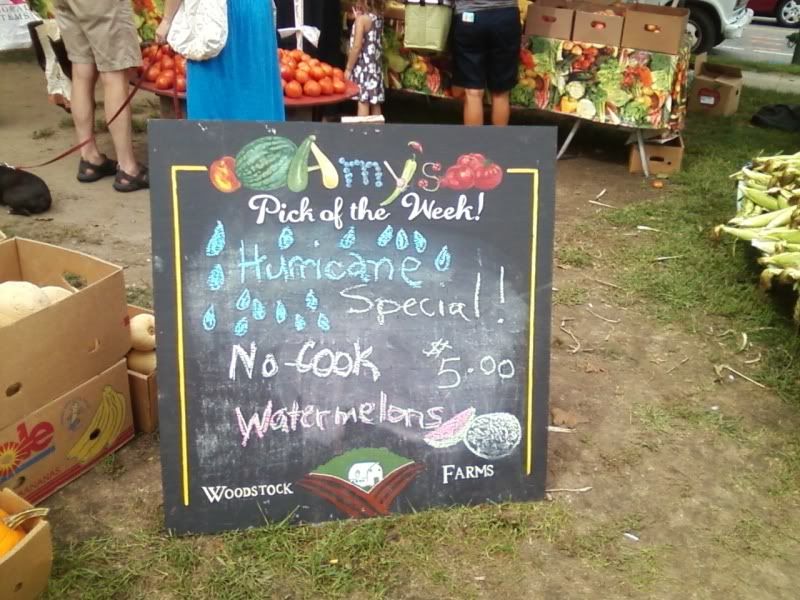 Total Miles: Scheduled – 36 Actual – 37.2