I ran the inaugural Rock N Roll Providence Half Marathon on August 7. Fun times.
It rained. Oh did it rain. Sometimes showers, sometimes downpours. I actually like running in the rain, as long as you're prepared and it isn't too cold or windy. Once you get over your feet being wet and squishy, it's not so bad. It keeps you cool. However, none of the hourly forecasts I checked said it was going to downpour. Showers or thunderstorms, yes. Rain and sometimes downpours, no. Thankfully, forecasted showers were enough for me to pull out a visor. It was already raining when I left for the race. You can't do anything about the weather. You can only be prepared. I made myself a superhero cape, er, disposable poncho out of a 13-gallon garbage bag by cutting one side and the bottom of the bag and tied the drawstring at my neck. Just enough to keep most of me dry before the race started.
I got in my corral about 15-20 minutes before gun time. And waited. And waited.
Start line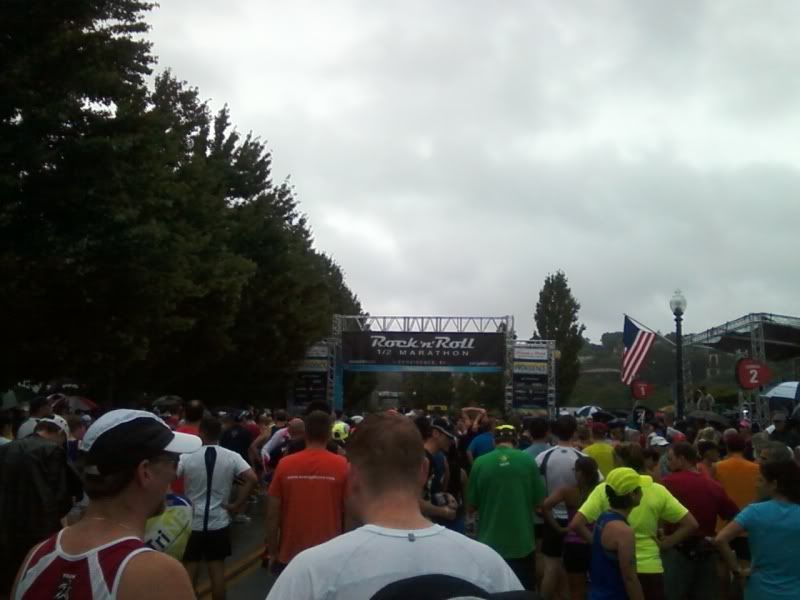 On the downside, the race started 15 minutes late. I am not sure why it didn't start on time, but I expected better from Rock N Roll. Also, the gear check was uncovered. It rained the whole time. You do the math. The gear bags were not the large clear plastic bags like at Mardi Gras. I had a plastic poncho wrapped around the stuff in my gear bag, which helped a little but not enough. My towel and extra set of clothes still got wet.
On the upside, other than the late start and uncovered gear check, it was the well-oiled Rock N Roll machine I expected. I was in corral 4 and crossed the start line in about 2 minutes. Not bad. Was able to settle into my pace within the first mile. Curb-to-curb road closures, which doesn't always happen in the Providence area. Plenty of port-a-potties everywhere (start/finish area and on the course). Well-stocked water stops. Gus where they said there would be Gus. Cheerleading squads out on the course. Nice medal. Plenty of food options in the finishers area. Water, Cytomax (the citrus flavor tastes weird. I am glad I did not drink it on the course), bagels, bananas, oranges, Popsicles (best idea for a summer race), Marathon bars, snack mix, maybe some other stuff. I am soooooo glad I packed a poncho and Adidas sandals in my gear bag. I didn't stick around to see Sugar Ray because I was soaked.

Smart things I Did
Ran in a sports bra -
Based on the temperature alone, I was planning to wear the sports bra. It was around 70 when the race started. Less is more when it comes to running in warm rain.
Ran with my Fuelbelt -
I have never been in a summer race of any distance where there were enough water stops. I took water at every water stop and then drank my own water as needed. One of my four bottles had Gatorade because I do not like Cytocrapx, er, Cytomax, that Rock N Roll has out on the course. Finished the race with a half bottle of water and a half bottle of Gatorade left.
Ran with my bib toggled to my Spibelt -
Rock N Roll bibs tend to be large. I didn't want to pin my bib to my skirt or sports bra. So that meant toggling it to my Spibelt. Yes, I ran with both a Fuelbelt and a Spibelt (to hold a pack of shot bloks and a chapstick). Yes, the bib fit in between my Fuelbelt bottles. I had the Spibelt a little too low at first. In the first mile, I moved it up to my natural waist. Much better. Even though the Spibelt was against my skin the whole time, there was no chafing or uncomfortableness. In full disclosure, I have never run with the toggles before. It could have been a disaster. But it works perfectly. Yay.
Got a baggy of ice at mile 5 -
I cannot tell you how good that ice felt. I was just starting to get too hot. The ice was partially melted, so I tried to dump the water out. But then I realized it was cold. Ice cold water would do the same trick.
Lululemon running skirt –
I have long said to not wear anything loose when running in the rain. Running skirts and rain do not mix well. Unless it's a Lululemon running skirt. The skirt fabric is light enough that it never got weighed down. It didn't chafe. My Fuelbelt did not ride up. The elastic in the bottom of the shorts never felt uncomfortable. Well done, skirt, well done.
I usually take pictures during races. But not when it's raining. I was more concerned about avoiding puddles and potholes than taking pictures and potentially damaging my phone/camera.
Mile-by-mile recap
Miles 1-2 – State House and South Main Street. The 1:45 pace leader was in my corral. I passed him early in the race. Passed my local running store at mile 1.5.
Mile 2 – Benefit Street – one of the most scenic areas of the whole race. Colonial-style houses. Good amount of spectators. The band just before mile 2 played Superstitious by Stevie Wonder when I ran past.
Mile 3-5 – North Main Street and Hillside Ave. Eh. I knew this part was going to be boring. Slightly uphill for most of North Main Street. The 1:45 pace leader caught up to me at about mile 5. We played cat and mouse for the next 4 or 5 miles. Hillside Ave was OK, though. My husband was at mile 5 with my bag of ice.
Mile 6-7 – Blackstone Boulevard. Pretty area lined with trees and large houses that I run on almost daily. More spectators. More rain. Checked in with myself to make sure I was running at a pace I could hold and that I had the right amount of water, Gatorade, and shot bloks. All systems go.
Mile 7 - Residential area, then very steep hill down to a river, then more heavy rain. Some of the bands in this area weren't playing, I think because of technical difficulties with all the rain.
Mile 8-9 – Up, then down, then along India Point Park, and under a highway and along another river. There was a cheerleading squad in a tunnel. Very loud and very much needed. The 1:45 pace leader was ahead of me but still in sight. I think I lost sight of him somewhere in mile 9 or 10.
Mile 10-11 – Downtown Providence. Over the Point Street Bridge and into the wind. Uh, the wind. Dislike. I didn't think I had enough to break 1:45, but I would be a solid 1:45:something and I almost certainly had a PR. That was OK with me. This part of the course doubled back on itself. I love that in races. I get motivated by seeing other runners at different points on the course. I saw the 2:00 pace leader twice on the other side of the course. Just before mile 12 as I was crossing the bridge again, one of my running buddies shouted my name from the other side of the course. I was really really focused on .... something and it didn't fully register. But I responded with "Woohoo!"
Mile 12 – Turned to back towards the finish line. One mile to go. Still in downtown Providence. Took two very short walk breaks because of what I knew was coming in mile 13.
Mile 13 – Who plans a half marathon that finishes on the steepest hill of the entire race? Oh that's right, Rock N Roll did. You couldn't even see the finish line until you passed the 13 mile marker. I would be annoyed if I didn't know about that hill in advance, but it was no surprise to me as I live in the area and I have run other races with a similar finish line. It was good practice for the hill at the end of the Chicago Marathon.
Finish – The crowds were loud. Thank you, crowds. Garmin said 1:45:50. Woot! New PR. I rocked it all over Providence!!
My official time was 1:45:47. New half marathon PR at an 8:05 pace. Sounds good to me, especially since it was in less than ideal running weather and on a hilly course. Also, my previous fastest summer race pace was 8:26, and that was in a 10 mile race. Good on that account too. I ran a pretty consistent pace the entire race. And I ran pretty darn close to my marathon goal pace (8:00 to give me some leeway to hit 8:12 in the marathon). That's a good confidence boost going into the second half of my marathon training cycle.
Runner Rewards