I had a big rant about how Nike+ is no longer meeting my needs for accuracy. All I had to do to improve accuracy was recalibrate it. The last time I calibrated it was 10/9/09. Oops.
To calibrate it, you need to run a known distance. This is where a track come in handy. Off I went the other day to the track outside of McCoy Stadium, the home of the
Pawtucket Red Sox
, aka the Paw Sox. Not the greatest track, but it met my needs. Since there were no markings, I used a water bottle to mark my finish line. Running by the stadium was fun. I will be back.
Don't know of any tracks in your area? Here's a tip.
Google Maps
is your friend. The nice thing about tracks is that they are big ovals on aerial maps. This is also useful if you need a track while you are traveling. I had a couple of nice runs in San Juan, Puerto Rico because I found a rubbery track in a community park. A word to the wise, though. Some tracks are fenced off and not accessible (like the middle school track in the area where I used to live), and some are closed because of varying states of disrepair (like my first attempt at finding a track in my neighborhood).
Did I mention how fun the Paw Sox are? Nice stadium that holds about 10,000 people. Grassy spectator area near the outfield. Easier and less expensive to get to than Boston. More family-friendly. $20 will get you a good ticket to the game and lunch/dinner. It's fairly common for members of the Boston Red Sox to play for Pawtucket when they are rehabbing from injuries. Jason Varitek, the catcher for the Boston Red Sox, made an appearance at the last Paw Sox game I went to.
McCoy Stadium from the track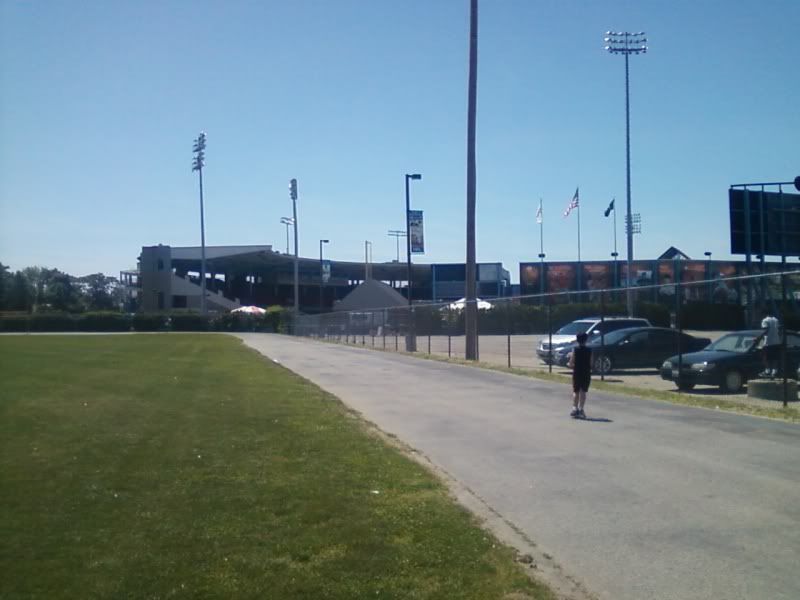 Paw Sox Mascot