This is another long post. Still a couple more Shamrock posts to come. I am still enjoying my post-marathon glow. Just bear with me. It doesn't seem to be going anywhere soon. I'll nickname Shamrock the !?! Marathon for all the times I did something that made me go !?! Yes, there was a lot of that.
My thoughts about my performance in the Shamrock Marathon, in no particular order:
The course - The course is pancake flat except for a bridge that you run over twice. I am used to running hills, so the bridge did not phase me at all. There are many long, straight sections. Kinda boring at times but manageable.
The weather - Couldn't have asked for a better day. Mostly cloudy for most of the race. In the mid- to high-50s. Headwinds in the first half and tailwinds towards the finish.
Fluids - I was trying to carefully walk the line between overhydrating and underhydrating. I got it right this time. My Fuelbelt bottles were nearly empty at the finish line.
Fuel/food - I ate fewer shot bloks than usual. I usually eat a handful of pretzels around mile 12-13. I ate 2 or 3 around mile 15. Maybe I should have eaten more. I could feel a salty crust on my forehead in the higher miles. But I also knew I was drinking more Gatorade than usual. Overall, it worked pretty well.
Mantras - "Boston is going to happen today" became my mantra early on in the race. I had a collection of mantras to draw on. You never know which one will work until you are out there.
Concentration - I was careful to not use up too much energy in the beginning of the race. If I found my eyes wandering downward, I told myself to look up at the scenery. I kept an eye on my overall pace but wasn't overly focused on it.
Mental skills - They were much stronger than in marathons past. Must be all that running without music or practice at doing difficult things. Think running 18 miles in a snowstorm qualifies as difficult? How about running 20 miles alone in strong winds? I read Hal Higdon's chapter on mind games on the way to Shamrock. I had already incorporated most of his suggestions into my training. Excellent.
Being confident - I had a series of really great long runs leading up to Shamrock. I put up a great deal of bravado in the days before the race. But hey, it worked. I got out there and ran ran ran and didn't doubt what I could do. Tell yourself you can do something and you just might surprise yourself.
Monitoring my body - Nothing hurt too much. Sure, I could feel some blisters on my feet and yes, my muscles were getting a little sore. That's normal. I did not have a massive quad muscle fail. My hips, which had been acting up on some of my long runs, stayed OK. My ankle held up. Victories.
Learned from Chicago - The biggest issue was ignoring dehydration. This time, I recognized the signs of dehydration and did what I needed to do immediately. It worked. I felt fine when I finished.
Pace groups - I didn't use a pace group. I started off in between the 3:25 and 3:35 pace groups. Around mile 8, the 3:25 pace group was a couple minutes ahead of me. I decided that if the 3:35 pace group passed me, I needed to chase them down. The 3:35 pace group never came near me.
Pacing - Planned to run at an 8:00 pace, in part because I could easily memorize key splits and do the math on the fly. Banked some time up til mile 22, then started backing off because I was dehydrated. I ran all the way through mile 22. I set an unofficial half marathon PR (1:43:45). IN A MARATHON. WHO DOES THAT?!?
PRed big time - I had a hugely huge PR. I knocked off over 21 minutes!! And exactly 24 minutes off the time from my first marathon. I didn't even realize this until the day after the marathon. Well done, self, well done indeed.
Got my BQ/GQ - I met my lofty goal. My training, the flat course, and the weather all collided for an epic marathon.
Rankings - 305 out of 3303 finishers, 46 out of 1359 women (Top 50!?! Holy crap), and 8 out of 251 women in my age category. Sham Rock On indeed.
Corral 1 - I'll be honest. I wasn't sure I belonged in Corral 1. The cutoff for the corral was under 3:45. I put 3:35 as my projected finishing time when I signed up in October. My training suggested I belonged in Corral 1, but my previous marathon times did not. I certainly had no reason to believe I could run 3:35 when I signed up, other than I really wanted 3:35. By its nature, Shamrock draws a lot of people who run for fun. You see tutus, green wigs, and all sorts of Shamrock-themed things. Not in Corral 1, though. I think I saw 1 tutu. Green clothing, yes, but no silly costumes. It was all serious runners. Almost no one talked waiting for the race to start. That's one of many reasons why Shamrock is a great race. There is a place for the runners who want to be serious and a place for the runners who want to have fun and a place for everyone in between.
Ran a smart race - The me who ran Chicago failed to slow down when dehydration set in, didn't manage energy and mental focus correctly, and didn't adjust goals to weather conditions. The me who ran Shamrock ran infinitely smarter.
Ran evenly - My second half was only 4 minutes slower than my first half. I'll take it. I knew I could have picked it up at the end if I really needed to, but I didn't need to. Pretty darn close to negative splits.
Professional pictures - They are some of the best race pictures I've ever had. I am notorious for never seeing race photographers until I am past them. I usually end up with a lot of bad pictures. Even my crappy race pictures look good. I think I will be buying this batch. Double thumbs up with a smile AND King Neptune in the background? Yes please!
Training - I was worried about overtraining and pushing myself too hard. Nope, no overtraining. I pushed myself appropriately to improve. The shocking secret to run faster is to ... run faster.
Support of my running buddies - I had a group of strong women believing in me and encouraging me from the day I signed up for Shamrock to the moment I crossed the finish line and beyond. Thanks, buddies!!
In past races, I have taken pictures during the race. Not this time. I got a new phone that isn't amenable to taking pictures on the run. It just barely fits in the pocket of my Fuelbelt. So I wrapped it up in a plastic baggie at the start and didn't look at it again until I was done. But here are some other pictures.
Walking up Atlantic Ave to the start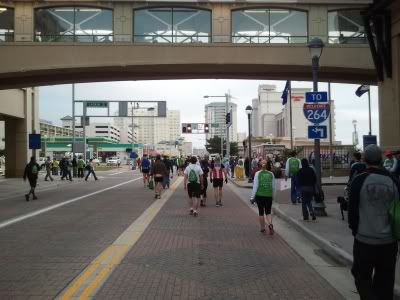 King Neptune statue (taken the previous day)
View of the finish, finish area, and post-race party from my hotel balcony. Pardon my finger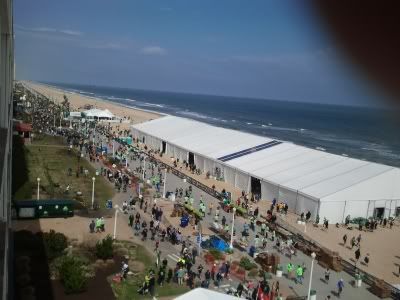 Sand sculpture on the beach
Vertigo playing at the post-race party