There will be multiple posts about the Shamrock Marathon. But first, the mile-by-mile race recap. It will be long.
Good morning, Virginia Beach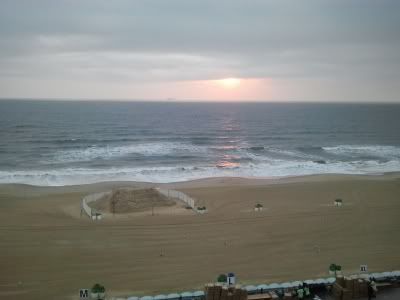 Getting ready to Sham Rock On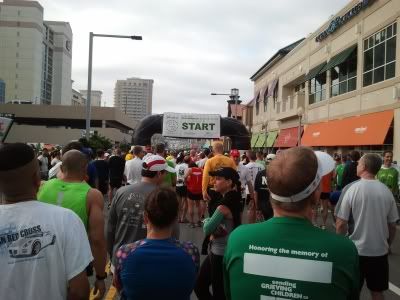 Mile 1-2 - south on Atlantic Ave. I was in Corral 1 (based on my projected time), so I crossed the start line in under 30 seconds. Settled into my pace within the first quarter mile. I knew I had to reel it in and not go out too fast. I planned to run at an 8:00 pace. Since R2 (my trusty Garmin) overestimates distance, I was aiming to be in the 7:50s. The temperature was perfect, but it was also somewhat humid. Or at least more humid than I am used to at this point in the year. I started drinking both water and Gatorade almost immediately. This was a wise move. I spent a lot of the first mile or two fiddling with my headphones and my Spibelt trying to get everything positioned correctly. My Fuelbelt stayed put the whole race. Didn't have to adjust it at all. Note to self: never try to wind your headphones around your iPod and then tuck the earbuds into your Fuelbelt or Spibelt. Just wind them behind your neck and tuck the headphones into the strap of your shirt.
Mile 2 - Some winding roads and over a bridge. The bridge is the only hill in the entire race. There might be some very gentle inclines in other places, but I didn't even notice them. Pancake flat.
Mile 3-5 - South to the turnaround. Passed the Virginia Aquarium. I dropped one of my water bottles and had to stop to quickly pick it up. My pace was exactly where I wanted it to be. Between 7:50-7:55. Somewhere in this stretch, the lead runners and escort passed me on the opposite side of the course.
Mile 6-7 - North from the turnaround. Pretty straight. Nothing too stand-out. I started picking runners off, one by one. Hit 7 miles at 55:53 (7:59). Spot on.
Miles 8 - Camp Pendleton Marine base. Loved this part!! Some of the Marines were out cheering and singing. I am really excited to run the Marine Corps Marathon in the fall. By this point, I knew I was having a good race. "Boston is going to happen today" started creeping into my head. You really do know about 5-10 miles in if you are having a good race.
Mile 9-10 - Still heading north. Over the bridge again and more winding roads. No more hills! By mile 10, my pace had settled into the low 7:50s. I was still picking off runners.
Mile 11 - North on the boardwalk. Straight into a headwind. At first, I hated the wind. But then I realized it was cooling me off. And it was going to be a tailwind on the way back into the finish.
Mile 12-16 - Back on Atlantic Ave. heading north. I did a systems check at about the halfway point. Tired? No. Aches and pains? No. Thirsty? No. Pace good? Yep, pace good. Boston is going to happen today. Hit the halfway point at 1:43:45 (7:55 pace). That's a half marathon PR by 2 minutes. In a marathon!! Whoa. Bon Jovi's Living on a Prayer was blasting as I ran by the half marathon mark. "We're halfway there" has never been more appropriate. I pulled out my iPod at mile 14. I was trying to make it to mile 16, but I needed the music. The course was just too straight. The lead runner and escort passed again on the opposite side of the course.
Mile 16-19 - Shore Drive. No mans land. No, really. There were no spectators for 3 miles straight. Except the road isn't straight and there there is a strong cant to the road along turns. This part could have been an epic disaster, but Shamrock got it right. Oh, did they get it right. There were signs with Shamrock-themed riddles. One sign was a riddle. The next was the answer. Some of them were lame, but most were funny. It definitely kept my mind off of a potentially boring stretch of the race. Hit mile 18 at 2:22:55 (7:56 pace). I was feeling pretty good, mentally had it, and was still picking runners off.
Mile 20-22 - Fort Story and Cape Henry, slowly turning south again. This part was also pretty boring with limited spectators. The Cape Henry lighthouse was interesting, though. You could catch glimpses of the ocean if you looked carefully. Hit mile 20 at under 2:38. Sub-8! For 20 miles!?! Boston IS going to happen today. Felt good at mile 20. Still felt good at mile 21. And I was STILL picking runners off.
Mile 22 - The sun came out and it was starting to get warmer. My pace had stabilized at 7:50 from about mile 10 to this point. Up until this point, all of my mile splits were under 8:00 (except the first time over the bridge and the mile where I dropped my water bottle). I knew I had several minutes of wiggle room to work with. I knew I was starting to get dehydrated, though. Sloshy stomach feeling was creeping into my belly. In hindsight, my experiences with the Chicago Marathon were really helpful here. I knew immediately that I was getting dehydrated (waaaay better to happen at mile 22 than mile 6 like at Chicago) and I needed to slow down and/or drink more Gatorade. My bottles were getting empty. I had successfully held off dehydration for 22 miles. I knew I would make it 4 more miles. So I took my first walk break. I couldn't believe that I RAN all the way through 22 miles. I have never ever ran that far without stopping. Ever. Boston is going to happen today, even if I slowed down.
Mile 23-25 - Atlantic Ave. again heading south. I took more walk breaks and started walking through some of the aid stations so that I could fill my water bottles. "How badly do you want it?" crept into my mind, and the answer was "Not that badly." Still, my pace didn't fall off that much. Boston is going to happen today. A bunch of fighter jets soared over head. Perfect timing. There were runners on the opposite side of the course. I always like parts of the course that double-back on themselves.
Mile 26 - A little bit farther on Atlantic Ave and then onto the boardwalk. I pulled my headphones out as soon as I turned onto the boardwalk. There was King Neptune and the finish line!! I knew it was deceptively far away. 3:28:xx on R2. About a half mile to go. It was not going to take me 7 minutes to run a half mile. I made gestures at spectators to get them to cheer and they did!!
Mile 26.2 - Passed King Neptune and crossed the finish line with 3:31:xx on the clock and on R2. Official time was 3:31:27. 4th time a marathoner and 1st time a Boston Qualifier AND Gansett Qualifier. I did it!!
Thumbs up on the Shamrock Marathon and my green Costco tank. The tanks are 2 for 2 in marathons.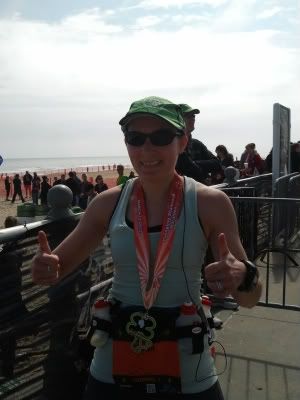 Garmin unofficial time and 26.2 Finisher hat