If you run enough races, you end up with a pile of medals. Here's my collection of bling from my modern/adult running career. The collection resides in an old running shoe box. Better than having them lie around all over the place.
Just the ones from this year. 3 marathons, 2 half marathons, a 5K, and a special non-race medal. And I thought I didn't race much this year.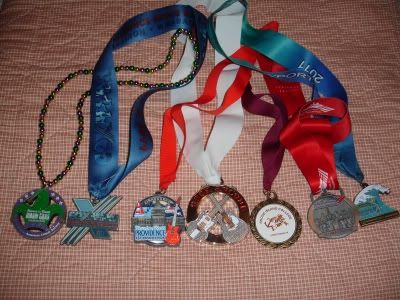 My extra medal for doing 2 Rock N Roll races this year and the only medal that I won (1st place in my age category in a small 5K).
The prettiest medal. From the first Divas Half Marathon in Long Island last year. This thing is so large and heavy that it could take someone out. The sparkly part spins and has a space in the back for a picture. You got a free race picture to put in the medal. Nice touch. The course was boring but the atmosphere was fun and female-filled. The Divas series reminds me a lot of Rock N Roll. Expensive races but lots of perks. Divas Long Island had the nice medals, clocks at every mile, a decent amount of water stops, tiaras and boas, roses and champagne at the finish, and firemen giving out medals.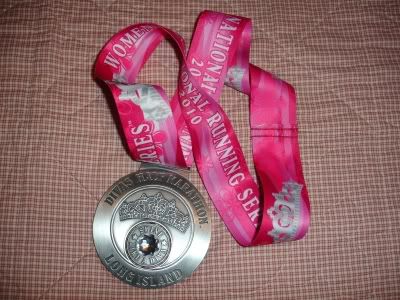 This is the medal I am most proud of. The 2009 United Healthcare/Amica Half Marathon in Newport, RI. The infamous nor'easter race that I still talk about. It wasn't my fastest half marathon, but banging out a 1:53:40 in cold wind-driven rain was one of my strongest performances. Especially after having no idea what my time was after mile 10 because my timing device got too wet. Actually, the weather probably contributed to my time because I just wanted to be done, warm, and dry.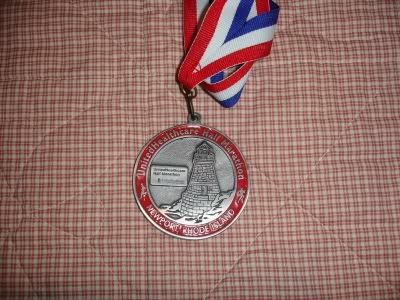 The oldest medal in the collection of bling is my first half marathon medal from 2008. My, how that race has grown and changed.