More stuff. All good stuff this time.
Thumbs Up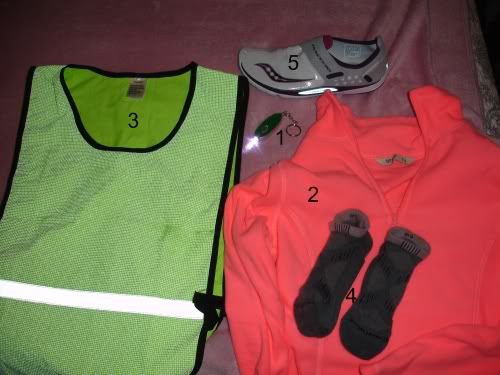 1. Single-bulb LED flashlight keychain - I have no idea where it came from, but I want another one. I think it was a freebie? It is small, flat, and light so that I can tuck it away in my Spibelt when I no longer need it (unlike my larger 7-bulb LED flashlight which is round, too heavy, and makes the Spibelt bounce like crazy). Perfect for illuminating those dark spots and flashing at drivers so that they can see me.
2. Old Navy performance fleece quarter-zip pullover - scored this on sale for $7 last week. Used a $20 Groupon that I paid $10 for to buy this and another pullover in a slightly different style in dark pink and 2 pairs of fleece gloves. Not bad for $10. The light peach/light orange color is so bright that it glowed through a plastic bag. That's kinda the point. This is not a color I would choose on my own, but it works for low-light visibility.
3. Illuminite reflective vest - Bright yellow, has adjustable Velcro ties at the waist, and is more than just a reflective strip. I bought this at the Rock N Roll Providence Half Marathon expo from a woman in my area who sells Illuminite samples. The funny color is from the flash reflecting off the reflective pattern all over the front and back. Without the flash, the vest is bright yellow.
4. Smartwool Ph.D. Ultra Light running socks - These socks knock my socks off so much that they are worth mentioning again. They both 1) keep my feet cool in warm weather AND 2) keep my feet warm in cold weather. How is that possible? Magic socks, I tell you.
5. Saucony Hattori shoes - Saucony's zero-drop minimalist shoes. Full review coming soon.
I seriously need to stop buying exercise clothes and gear. I go through socks and shoes pretty quickly, but other than that I don't need anything. Of course, now that I have said that, I'll probably come across some new clothing or gear that I need. Such as Lululemon Wunder Unders ....