I had been looking for a minimalist shoe for a while. Not to run in, although I am not against trying it at some point. I wanted minimalist shoes for strength training so that I can maintain my balance more easily. Nike Frees appealed to me, but Nikes don't really fit me properly. I knew about Vibrams too, but they don't fit me properly either. The five toes thing in particular didn't work well. Sauconys have treated me well over the years, so I researched and set out to find Saucony minimalist shoes.
Enter the Saucony Hattori. Saucony's zero drop, very light and slightly cushy minimalist shoes. Added bonus for being on sale.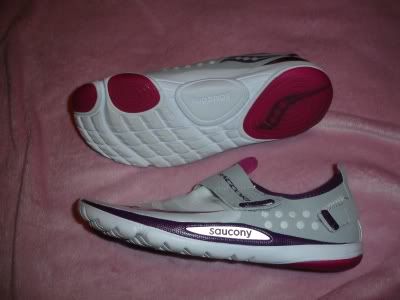 I had to size up a half size from my regular running shoes. The fit was slightly better in my regular size, but there was a seam that I could feel under my toes. Yeah. No. I'll take a half size larger, thank you very much.
I have a feeling the soles will wear out quickly. I have some concerns about the stretchy material on the top of the shoe ... not sure how durable it is. But, for the price, they seemed worth a try. I like them so far. They are very comfortable for walking around, very light (3.8 ounces for the women's model, compared to 10.4 ounces for my Saucony Guide 4 running shoes), and almost slipper-like. In comparison, now my regular running shoes feel extra cushy. Interesting. I was not expecting that. I wore them around the house for a few days because they are so light and better than walking around barefoot. They've worked well for doing lunges with one foot on a stability ball. And for doing squats against a wall with the stability ball. And for standing around doing upper body exercises with free weights. I can feel the floor much better. I just have to make sure I don't drop the weights on my feet ;-)
I still don't plan on running in them. I'd have to try it out sometime when I am not training for something. The risk of injury is not worth it. But I won't rule it out. I once said I wasn't sure I'd run a marathon, and look at what happened. If I get another pair, I will order them online where there are more color choices. The white/purple combo is cute, but I like some of the other colors better.
Both shoes on my feet
And off