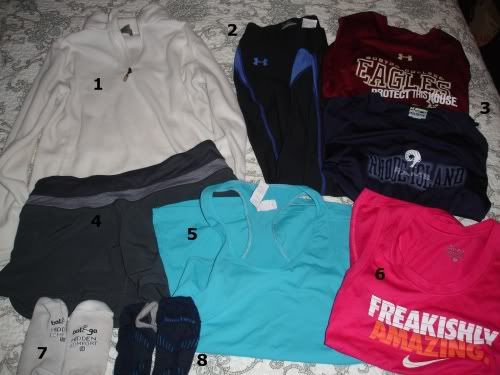 1. C9 pullover fleece - scored this for $3.97 on Target's clearance rack. Yes, it wicks nicely. My
LL Bean Pathfinder jacket
is too warm 99% of the time. The pullover fleece is just right. Along with 2 base layers, it kept me comfortable on a 20-mile run on a 15 degree winter day.
2. Under Armour coldgear compression tights - Tights that fit like a second skin. They make me feel like a speedy ninja. I have another pair in solid black.
3. Under Armour college t-shirts - I am a Boston College and University of Rhode Island alumna. The URI shirt is from the green line made from recycled materials. The fabric is really soft. It's unfortunate that URI now carries Adidas. Go Eagles! Go Rams! (except for the rare times they play each other, and then it's go Eagles!)
4. Lululemon Groovy shorts - I like them because they are functional. Lots of places to stash things. 2 small pockets in the front, 1 zippered pocket in the back. Very comfy waistband with an internal drawstring. This pair has come along with me on two marathons. Sadly, these shorts have been replaced by the Turbo shorts. Boo hiss.
5. Kirkland Signature/Costco tank top - knockoff of Lululemon's cool racerback tank that was carried earlier this year. I still can't tell the difference.
6. Nike Drifit Freakishly Amazing tank top - the "uniform" shirt for me and my running buddies. Light fabric that dries quickly.
7.
Balega Hidden Comfort socks
- Very good to preventing blisters. Good performance in the rain too. The tab at the heel keeps the socks from falling into your shoe.
8.
Smartwool PhD ultra light micro running socks
- Similar to the Balegas but with arch support and made out of wool. Not itchy. I wear these year-round. Keep my feet cool in the summer and warm in the winter. They are not cheap and I admittedly did not like them at first, but I've come around.